8 Course Lute - Renaissance Lute - made on the Hans Frei principle of construction of solid Rosewood staves, neck, end cap, peg box and pegs. 8 Course Lute - Renaissance Lute's soundboard is made out of Spruce with thickness of less then 2mm. Beautifully hand crafted and polished. Comes with a copy of "Lute Lessons for the Beginners", a gig bag, all in a protection crate.

All lutes are shipped de-tuned, this removes the tension on the neck to lessen the chances of accidental breakage during transit. Do not tune the lute higher then G above middle C, the bridge can be fulled off.

1) 8 course / 15 strings
2) Renaissance Lute (Alto) in G key
3) Scale length 60cm
4) Bowl width 31.5cm
5) Bowl height/depth 15.5cm
6) Peg box length 27cm
7) Total length 72cm
8) Universal peg size - 8mm going to 5mm
9) Weight 1 kg

Frets of nylon:
Thickness: 1st 1mm - 2nd & 3rd .9mm - 4th, 5th & 6th .8mm - 7th, 8th & 9th .7mm - 4 wooden frets embedded in the sound board on same ratio.

Fret board:
9.2cm wide from bowl going to Nut at 7.2cm with round edges of fret board.

Bridge:
String space between the string is at 5mm

Nut:
Strings are paired on 3.5mm and the space between every pair is at 4.5mm

String height on fret board:
From Nut, 6mm space between the string and fretboard - From 8th fret, 3.5 to 4mm.
Hakam Din
8 course lute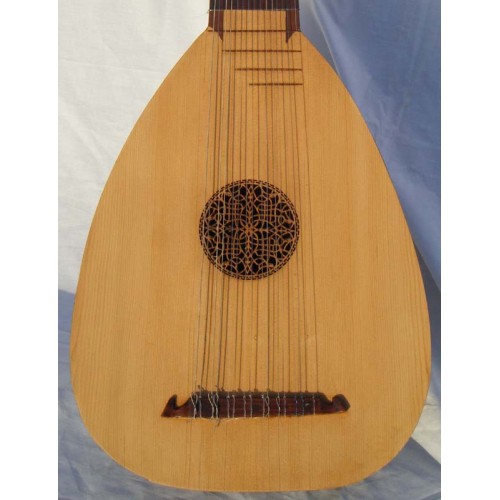 Average rating:

4.5

, based on

2

reviews
8 Course Lute
Product Code: 8CL-60
Availability: Out Of Stock